A Pioneer Chinese Canadian Woman
Jean Lumb (nee Wong), one of twelve children, was born in Nanaimo, B.C. She left school at the age of 12 to work and support her family. In 1935, she moved to Toronto and opened her own grocery store at the age of 18. She married Doyle Lumb, her husband of 50 years. The mother of six children and grandmother of nine grandchildren and one great-grandson, Jean Lumb was the Co-Owner and Director of the Kwong Chow Restaurant in Toronto for 23 years.
Jean Lumb was the first Chinese Canadian woman and the first restaurateur to receive the Order of Canada for her tireless community work. Most notably, she was recognized for her pivotal role in changing Canada's immigration laws that separated Chinese families and for her contribution in saving Chinatowns in Toronto and other cities. She achieved additional firsts in the community:
First Chinese woman on the board of governors of the Women's College Hospital
First Chinese woman on the board of University Settlement House
First Chinese restauranteur and first woman to receive the Fran Deck Award for outstanding achievement in Toronto's restaurant industry
First Chinese Canadian woman to sit on the Board of Rotary Laughlen Centre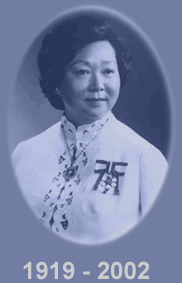 She also served as Director and Honorary Advisor of the Yee Hong Chinese Nursing Home for Greater Toronto and the Chinese Cultural Centre of Greater Toronto.
Jean Lumb was honoured with many other awards, including the Queen's Silver Jubilee Award, the Governor General's Award and the City of Toronto Award of Merit. She received the Queen's Golden Jubilee Award posthumously in 2002. Most recently, a historical plaque was unveiled in 2009 in commemoration of her contribution. The plaque program is administered by the Ontario Heritage Trust, an agency of the Government of Ontario.
Learn more about Jean Lumb's accomplishments.
A brief photo essay highlights some of the many Jean Lumb's events and accomplishments. Through her life we get a glimpse of the history of Chinese in Canada. She represents generations of Chinese Canadians whose hard work and sacrifice made it possible for the present generation to enjoy what it has today.